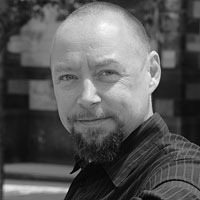 Meet Dan!
I am a Senior level Copywriter with two decades working as a wordslinger. This includes doing all things you're expecting from a writer: writing emotive copy that hits you right in the feels, concepting as part of an unstoppable creative team, and completing all the unsexy things that need to be done after the fun stuff is done.

I am adept at listening when I need to learn, persuading when I need to lead, and doing whatever else it takes to help the team reach our collective goals.

While I'm a copyhound at heart, I am also comfortable in client facing situations. This includes helping our clients understand the strategic thinking and creative rationale that goes into each project.

I enjoy the collaborative process, excel at creative problem solving, and know my way around pool, ping pong and foosball tables. I suppose now I also qualify as a Professional Musician (of sorts) having sold exactly ONE copy of my album. 
"You can make anything by writing."